We operate only cars licensed by ministry of tourism or /and ministry of transportation.
All our cars has public transportation insurance.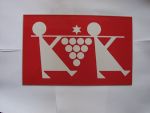 In Israel we pay about  80% customs duties + 15.5% V.A.T. But the Israeli government in order to encourage licensed experienced tourist guides to operate new and modern cars give special license named "Eshcol" which  exempt about 300 tourist guides  from duties and V.A.T.
This special license is called  "Eshcol" symbol the cluster of grapes that the 12 Israelite spies brought from Canaan to Moses after they explored the country Numbers 13-14 and their finding Numbers 13:27 "…"We went into the land to which you sent us, and it does flow with milk and honey! Here is its fruit."
"Eshcol" license is given only to certify experience guide which qualify high demands by a committee from ministry of tourism and ministry of transportation. The license is given by name, so each car work with the guide who got the license.