Ein Gedi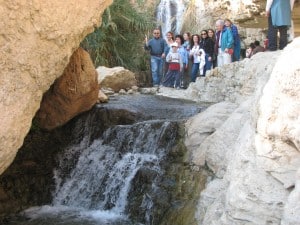 Ein Gedi in Hebrew –  Ein = spring   Gedi =  baby goat (Billy)
The name Ein Gedi appears in the Bible few times but the story in Samuel A 24  is the most known –
1 And it came to pass, when Saul was returned from following the Philistines, that it was told him, saying: 'Behold, David is in the wilderness of En-gedi.'  2 Then Saul took three thousand chosen men out of all Israel, and went to seek David and his men upon the rocks of the wild goats. 3 And he came to the sheepcotes by the way, where was a cave; and Saul went in to cover his feet. Now David and his men were sitting in the innermost parts of the cave. 4 And the men of David said unto him: 'Behold the day in which the LORD hath said unto thee: Behold, I will deliver thine enemy into thy hand, and thou shalt do to him as it shall seem good unto thee.' Then David arose, and cut off the skirt of Saul's robe privily. 5 And it came to pass afterward, that David's heart smote him, because he had cut off Saul's skirt. 6 And he said unto his men: 'The LORD forbid it me, that I should do this thing unto my lord, the LORD'S anointed, to put forth my hand against him, seeing he is the LORD'S anointed.  7 So David checked his men with these words, and suffered them not to rise against Saul. And Saul rose up out of the cave, and went on his way. 8 David also arose afterward, and went out of the cave, and cried after Saul, saying: 'My lord the king.' And when Saul looked behind him, David bowed with his face to the earth, and prostrated himself.  9 And David said to Saul: 'Wherefore hearkenest thou to men's words, saying: Behold, David
10 Behold, this day thine eyes have seen how that the LORD had delivered thee to-day into my hand in the cave; and some bade me kill thee; but mine eye spared thee; and I said: I will not put forth my hand against my lord; for he is the LORD'S anointed. 11 Moreover, my father, see, yea, see the skirt of thy robe in my hand; for in that I cut off the skirt of thy robe, and killed thee not, know thou and see that there is neither evil nor transgression in my hand, and I have not sinned against thee, though thou layest wait for my soul to take it. 12 The LORD judge between me and thee, and the LORD avenge me of thee; but my hand shall not be upon thee. 13 As saith the proverb of the ancients: Out of the wicked cometh forth wickedness; but my hand shall not be upon thee. 14 After whom is the king of Israel come out? after whom dost thou pursue? after a dead dog, after a flea. 15 The LORD therefore be judge, and give sentence between me and thee, and see, and plead my cause, and deliver me out of thy hand. 16 And it came to pass, when David had made an end of speaking these words unto Saul, that Saul said: 'Is this thy voice, my son David?' And Saul lifted up his voice, and wept.
This story is known to each Jew and too many others, and no doubt contribute to Ein Gedi fame.
Ein Gedi Nature reserve is the most visited in Israel as it is an oasis in the Judean Desert.
Two mammals are quite vast in numbers (relatively) and it easy to spot the here – The Ibex and the Hyrax.
The most popular visit is the 2 hours walk in Wadi David too Shulamit Fall, along the way deep in the small natural pools with dozens of others, it is  quite crowded but water in the desert is always a treat.
Visit the unique Synagogue mosaic floor dated to Byzantine time takes about 30 minutes.
Visit Kibbutz Ein Gedi unique botanical gardens.
There are many other trails from 2 hours to 2-3 days.